Some of the People at Cold Cotes
---
Ed Loft - My teenage years were spent on the Isle of Wight working in the restaurants of hotels and joining in Flower Power experience of watching Jimmy Hendrix at the 1970 festival at East Afton Farm. Then more hotels in London and Guernsey finally leaving the Island in 1975 and moving to Harrogate where I had my first art exhibition in the Valley Gardens along with 30 other artists.
I was quite successful but wasn't prepared to suffer for my art so I gained an HGV license and drove round the Middle East, Europe and the UK for the next 25 years. I kept painting all that time whenever possible (check out www.edloft-art.com) and have recently discovered an ability to write poetry, the legacy of driving alone is that you "think" resulting in Just My Thoughts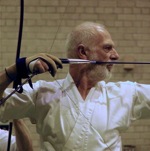 and a kindle book Life Drawings and Haiku.
My latest project "The Passion" - a series of oils with music and poetry is posted on You Tube.
I've been with Penny my partner for 25 years at Cold Cotes, it took 18 years to upgrade the house, when it was finished we had a very large house and beautiful garden with just the two of us in it so we opened the B&B to share it with our guests, and now our old barn looks beautiful too.
For any Martial Art practitioners reading this I am a Third Dan member of the Manchester Kyudo Group, Zen archery would be the English term, it's all in the mind.
---
Penny Jones - I qualified in Hotel Management after leaving school. My first business venture was Oliver restaurant in Harrogate. I went on to study Social Studies at Bradford and worked for a few years as a social worker in child protection and subsequently a manager in Social Services. Ed and I moved to Cold Cotes in 1984. During the next ten years I developed an interest in plants and gardens. Work on the garden as it is now at Cold Cotes didn't really start till 1995. I worked with Robyn Carter, a friend and garden designer, to establish a sense of direction for the garden and I have subsequently developed this as more of the land has become garden.
After Social Services I then spent ten years in the NHS most recently as a Chief Executive. During this time I qualified as a coach and developed my interest in personal and organisational development. In my time out of work I developed a real passion for gardening. Well supported by Mum (Doreen) and Philip Horn I have developed the garden and there is an outline plan to work to over the next few years to make a circular garden which will extend the garden round its boundaries.
I left the NHS in 2007 and now work independently as Azurite Coaching. In addition to developing my coaching practice I am currently planning a series of workshops to run with colleagues with Cold Cotes as a venue these workshops are set out under upcoming events.
---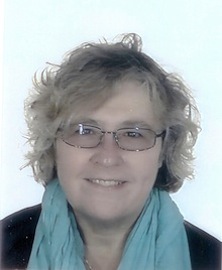 Joanna Russell - My role at Cold Cotes includes event management & catering, business administration, marketing and web support. I feel so blessed to live in this special place and very much enjoy expressing my creativity through the work I do here.
I returned home to Yorkshire in 2006 after about 25 years living in Austin Texas where I worked at the University of Texas. Like so much in Texas, UT is a massive school with over 50,000 students. I took an MA in botany there and then stayed on to work in the department later moving to the IT department where I did tech support and then business management and financial analysis. I began to realise that I was missing something very fundamental to me - Joy in my Heart and Peace in my Soul - and took steps to reclaim them. I found some dear friends, teachers and guides and with their support and the life-changing Insight Seminars began to experience huge shifts in my consciousness.
In 2004 I began a Masters degree in Spiritual Psychology at the University of Santa Monica. Flying out to California one weekend a month for 2 years was the most precious gift I have ever given myself. The loving support of the brilliant faculty and my Class of 2006 classmates helped me reach levels of self-awareness and loving acceptance of myself and others that I had never dreamed possible. Through this incredible, soul-centered education program I discovered the creative, joyous loving soul I truly am. I did indeed reclaim my Joy and Peace and I am so very grateful for all that led my to that. I learned communication and counseling skills that continue to support me on my journey as well as others on theirs.
My intention is to live my life in joy and acceptance, to radiate compassion and empathy and to love unconditionally. I have a learning orientation to life and look to focus on the positive in all my experiences. A good day for me is one filled with laughter, learning and Light, when I remember to be grateful for it all and that there really is no such thing as a bad day. - In Loving (p.s. I have more information/resources etc on my blog)
---
Jenny Gwilt - Penny and I met some twenty years ago when we were both working in the social services office in Harrogate and we have remained friends ever since. While Penny joined the NHS I stayed working in children's social care for North Yorkshire and then Barnardos. In 1999 I joined the Social Services Inspectorate and started a new career as an inspector of services for children. Apart from an interval working at DfES as the professional adviser on adoption, I have continued in this field and now work for Ofsted inspecting safeguarding and services for looked after children across the north of England. Well, I have to pay the mortgage somehow and I am still passionately committed to making things better for children in need.
My real love is cooking, especially jams and cakes. I started making jam and marmalade for my family and friends years ago and when Penny and Ed started up the bed and breakfast at Cold Cotes they suggested I might make enough for their guests too. I now supply all the jam, marmalade and chutney for Cold Cotes, all made in my own kitchen in the village of Glasshouses which is about six miles away. The summer months are a mad rush to make all the jam while the fruit is in season. Apart from the rhubarb which comes from my beloved allotment (my other hobby), the rest - or as much as possible - comes from local 'pick your own' farms. Neighbours and friends who have surplus fruit from their gardens know to bring it to me and are rewarded in kind. The top favourite at Cold Cotes, strawberry jam for Sunday afternoon tea, is made with fruit from the Birstwith strawberry farm. I make marmalade all the year round from a variety of different citrus fruits. I try to make more unusual flavours that you don't see in the shops like grapefruit and pineapple marmalade, lemon and ginger marmalade, rhubarb and ginger jam or spiced plum. This year we have been amply blessed with damsons and blackcurrants too. Chutney flavours are prompted by whatever is in surplus on the allotment. There are no nasty additives in any of my produce and I know Cold Cotes guests love it. You can buy jars of my produce to take home with you.
---
Philip Horn - I have been fortunate to have worked at Cold Cotes and be involved with development of the Gardens for over a 10 year period. Initially on a weekend alongside 'the day job' and more recently, although part time on a more permanent basis.I may also be found undertaking other duties that are required within the guest accommodation and conference facility, I am lucky enough to be able to use my previous hospitality industry experience at Cold Cotes having previously worked in hotels in the Yorkshire Dales.
I first worked as a gardener aged 17 upon leaving school having been bitten by the plants bug at a very early age, memories of my grand-father's summer bedding and vegetable gardens. My gardening experience ranges from both small to large gardens having worked in a range of gardens and am a great believer that no space is to small to create a plant haven.
My previous jobs and work experience including Restorative Justice Officer for Darlington Youth Offending Service, leading Community Payback in and around the Town one project with Young Offenders enabled me to establish and maintain an allotment in Darlington to grow produce vegetables to enable the young people involved in my programme to develop new skills and practical experience. So I suppose it inevitable that I have been fortunate enough to incorporate a much loved interest into just that!
I enjoy the direction of enhancing and watching a large garden develop and thrive off of working in a large garden environment working with the plants and themed areas within the garden. During my time at the YDNPA, I was able to develop my knowledge of the local landscape and environment which would later extend beyond into the gardens that have inspired and enchant me. I think it is very important to gain insight from other gardens and gardeners. I have a genuine interest in and love of plants and gardens. I have studied towards the RHS Certificate in Gardening with Askham Bryan College which has enabled me to enhance and build upon my existing skills and knowledge.
Working alongside Penny to create woodland and herbaceous gardens undertaking all aspects of garden work required throughout the gardening year. Cold Cotes is very much a garden for all seasons and weather permitting we have been able to work all but 2 weeks of the year around the shortest day constantly planning and preparing for the year ahead. There is never a dull day at Cold Cotes. More recently we have been establishing and developing the plant sales and vegetable and fruit areas. This is a role and garden that I have become very passionate about. In my years at Cold Cotes I have seen a field turned into an established woodland garden that developed around piles of well rotting manure, with guests wondering around offering advice and encouragement, seen plants thrive and plants fail, six guest rooms develop and appear along with a conference facility out of a hay barn and ponies stable. More recently we have the harshest winter Yorkshire has seen in decades, meaning the loss of a large stock of more tender plants that had previously been lulled into a false sense of security! The once pond has turned into a bog garden, which means I get to have hours on end in a mud bath. Gardening at Cold Cotes certainly is a rewarding and onward changing challenge, long may it be..........
Feel free to say hello, happy gardening.
---
Lilian Kershaw - I have spent much of my career so far working in the NHS, first in general management, then in human resource management and organisational development. I was a director for 16 years, holding this position in 2 large NHS Trusts and a Health Authority. In 2004, I left the NHS to try to achieve some better balance in my life and, from a work perspective, to focus more on the things I enjoy most - learning and development. I am happy to report that I have succeeded in my quest. Since leaving I have trained as a coach, have developed a successful consultancy and have qualified as a homeopath.
I am currently building a homeopathy practice, while continuing to provide human resources and organisational development consultancy to organisations. I coach and facilitate both individuals and teams at all organisational levels and Penny Jones and I also provide a range of corporate development programmes within organisations as well as from Cold Cotes.
For quite some time now I have been keen to offer a variety of similar development opportunities as part of an open programme, accessible and affordable for those who may not be able to access them through their employer. In addition I am passionate about sharing my own expanding world and insights into complementary therapies. Following much discussion and soul searching with my great friends at Cold Cotes, we have now begun to form a collaborative of highly talented and enthusiastic colleagues and friends and together we have created an ever growing and varied weekend programme of workshops. As this project progresses the synchronicities never cease to amaze and I am enjoying very minute!
My much loved friends at Cold Cotes provide a very special environment from which to work, oodles of encouragement to everyone who passes through and a range of skills and support that are quite unsurpassed. I feel incredibly blessed. I hope you choose to visit, that I make your acquaintance here and that we might grow together as your life journey and mine overlap, even if for just a very short time.
---
Fiona Mclaughlin Fiona, local to the Harrogate area, then spent several years abroad training at music conservatoires and teaching woodwind at The British School in Abu Dhabi, Having returned to Harrogate four years ago she continues to play flute recitals, as well as performing with several musicians, including her newly formed 'Fountains Quartet' an ensemble of Flute and Strings. Alongside this she teaches Flute, Clarinet, Saxophone, Recorder and Music Theory at her ever growing music studio in Harrogate. Fiona also runs woodwind workshops for children and adults of all abilities.
Fiona has performed at many venues for recitals, weddings, charity events, and functions including - Bettys Tea rooms in York and Harrogate, Rudding Park Hotel, Ripley Castle, Markington Hall, Aldwalk Manor, The Imperial Hotel, Cedar Court Hotel, The Swan Hotel. And also venues in Denmark, Sweden, Holland, Abu Dhabi, The Worcester Three Choirs Festival, Durham, North and South Shields, Mellerstain House in Scotland.
If you'd like a live musical perfomance to enhance your stay at Cold Cotes, Fiona can provide music either as a soloist or with her Quartet. The acoustics in the barn hallway are superb and really add to the special enviroment without overbearing and encroaching on guests space. Please feel free to contact Fiona on anoifflute@hotmail.co.uk or call 0789 101 8996 so she can liase with you and help you create the perfect ambiance.
---
Kevin O'Connor - Kevin offers highly entertaining cooking demonstrations at Cold Cotes. Kevin caters for private parties and he believes food should be cooked simply, look great, taste fantastic and above all the whole experience should be fun. He is an experienced chef and trainer currently working for Craven College assessing trainee chefs to achieve the City & Guilds Professional Cookery qualification. His professional career in hotels and restaurants spans 30 years working for the largest hotel company at the time Forte Hotels in London and internationally. His great interest is cooking and experiencing the different cuisines of the world and experimenting with new techniques and methods all of which he was able to do during his career.